Garage Door Springs, Repair & Replacement Services
We provide the best Garage Door Springs, Repair & Replacement Services that are safe, quick and just one call away.  It goes without saying that at some point all garage door springs will wear out and need to be replaced.  If not replaced in time those springs will break.
We are the leading garage door spring replacement expert with years of experience in the repair industry.  Our team of experts will arrive at your doorstep and replace any broken torsion springs or extension springs regardless of if you have a rolling steel, industrial sectional residential or commercial garage door.  Plus, the springs we use will be some of the best in the industry, so they are guaranteed to last a long time.

Dangers of Garage Door Spring Failure
People who have no experience and certification when it comes to garage door repair and servicing shouldn't repair or adjust the springs.  It is unanimously agreed upon by experts that spring replacement is dangerous because the new springs are placed under a tremendous amount of load.  So, it is imperative that proper tools are used in addition to comprehensive training.  If not done correctly spring replacement can go wrong, and it has in the past for many people causing bodily harm and property damage.
It is also important to note that continuing to use the garage door despite knowing that spring is faulty can be dangerous.  It will do not only more damage to the garage door opener but also the electrical opener system.  That said Garage Door Springs, Repair & Replacement Services are some of the most common types of repairs.  The springs are available in many different sizes and will work as a balance to lift the majority of the weight.  All of this ensures that the door opens smoothly and will close manually or if required an electric opener can be used.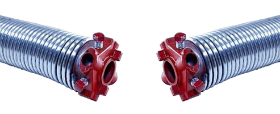 How Long do Garage Door Springs Last?
Garage door springs depending on the make and model of your garage door have varying life spans.  However, the lifespan is limited.  That said the lifespan of each spring or a series of springs are counted in cycles, i.e., the opening and closing of the door.  Generally, garage door springs will last for around 10k cycles.  Though it all boils down to how frequently the garage door is used.
Once the spring has reached the end of its lifecycle, it can break which then consequently releases all the tension and will no longer balance the garage door.  Keep in mind that the springs bear the most tension when the door is in the closed position, i.e., down.  So, that's why the springs mostly break when the door is down.  Also, that's why we strongly advise never walking under a moving garage door.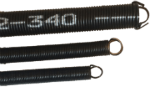 Certified Professionals to Your Rescue
We provide top quality Garage Door Springs, Repair & Replacement Services.  Our friendly and knowledgeable professionals will arrive with everything they need to assure the swift replacement of your garage door's springs.  We may also be able to provide you with high lifecycle springs if the door is used very frequently.